Equinox Saxophone Ensemble

"Pushes back the boundaries...Equinox demonstrate the musical heights that the full saxophone ensemble can reach..." Clarinet and Saxophone Magazine

Established in 2005 under the direction of Alistair Parnell, Equinox are a group of saxophonists presenting exciting and diverse music for the saxophone family. Repertoire and influences include contemporary classical, jazz and folk inspired music, presented in an entertaining and engaging way, with the aim of showing the versatility and expressive qualities of the saxophone, Equinox performances include music for the whole saxophone family, in large groups and in smaller combinations. More..

Our next concert:

An evening of music at the Cavendish Hall, Chatsworth, will feature the Equinox Saxophone Ensemble, soprano Savannah Stevenson, flautist Katy Strudwick and pianist Andrew Marples. Ticket includes a glass of fizz on arrival, and delicious festive treats and wine in the interval. E

very penny raised will go towards helping the ongoing costs of running the Ashgate Hospice, which relies solely on charitable donations.

Tickets £15.00 from:

---

See Equinox in action:

This was our lockdown recording of Over the Rainbow, in tribute to the NHS in 2020.
Equinox perform Nigel Wood's Serendip, featuring Roland Aerophones
Equinox perform Nigel Wood's Partial Eclipse with director Alistair Parnell on the Roland AE-10 Aerophone.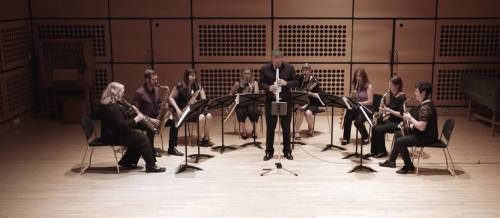 Equinox at the World Saxophone Congress
Equinox performed Molinelli's 'Four Pictures from New York' in Strasbourg as part of the World Saxophone Congress in July 2015. View extracts below.

Equinox Saxophone Ensemble